Hits: 21456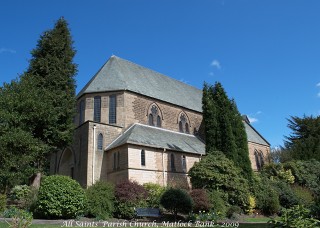 The Church from Smedley Street


*** Normal Pattern of Services for  2023 ***
 

There is a Service of Holy Communion at 10-45am on Sunday,
also a short  service of prayer at 1pm each Wednesday,
(Family Service on the third Sunday of the month at 10-45am)
 The service is open for anyone to attend.  All are welcome.
 This church is always at work and relies on donations to provide care and support to everyone in this community. 
Now more than ever, please consider giving generously to support our mission and ministry. Thank you for your support.
To view a way to make a single or regular donation to All Saints please visit this link:
Donate to All Saints
-------------------------------------------------------------------------------------
All Saints' Church is the Church of England Parish Church for Matlock Bank and Matlock Moor. The Church was built in 1884-1886 to serve the Victorian hydros of Matlock.
Due to lack of money only part of the original design was built in grand style with a more modest west end constructed in 1958.

All Saints seeks to serve and pray for people of Matlock Bank, working closely with the local Church Infant and Junior schools.

We warmly welcome everyone to worship.
Members of any church are welcome to receive Communion
There is a children's area on the right, near the font where there are activities for them.
 
Rector: Revd. Richard Reade
Assistant Priest: Revd. Dr. Anne Phillips
Readers: John Paulson, Roger Flint, Christine Walker 

Sunday Services

10-45am  - Sung Communion - Common Worship (except 3rd Sunday in month)
10-45am - Family Service - special format (3rd Sunday in the month)
6-30pm - Evensong on the 4th Sunday only (March to October)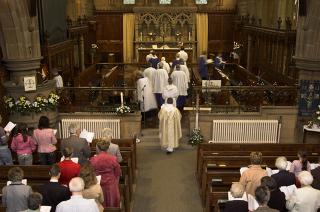 Sung Communion Service
Other Services
1pm 'Wednesday at One'  - short service of prayer and reflection
Extra services in accordance with the Church of England calendar
If you wish to enquire about a wedding, baptism,
funeral or anything else concerning a church service
please use this link:

Contact All Saints' Church Matlock


then enter Matlock in the Place field, then select All Saints from the list.
How to find us:-
We are located in Smedley Street, Matlock, Derbyshire, DE4 3JG as indicated in the map below:-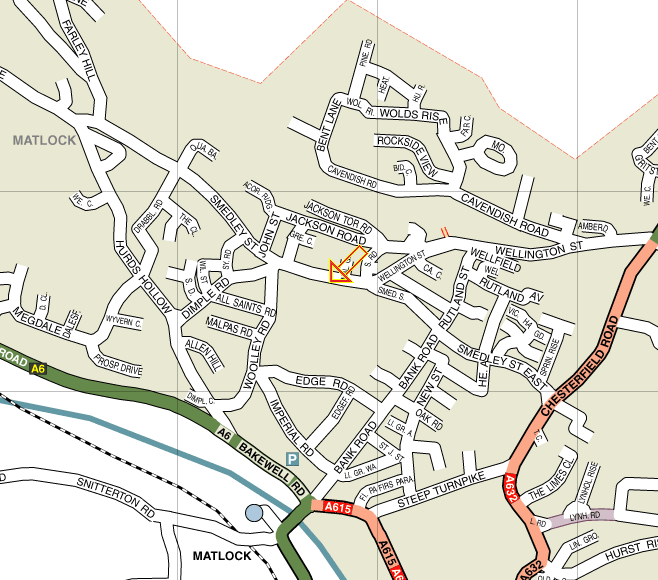 (map reproduced from Streetmap.co.uk - copyright)
Diocese of Derby Statement about Safeguarding
Protecting children, young people and vulnerable adults is the responsibility of us all, whether they are in the communities in which we live or part of our Christian family. If you have a concern about a child, young person or adult who may be at risk of harm please speak to one of the parish safeguarding coordinators or the priest within the parish. If you have concerns about a member of the clergy or an employee of the Diocese please contact the Diocesan Safeguarding Adviser, Julian Hodgson (01332 388678) or one of the Archdeacons. You can also report any concerns to the Police or Social Care. The important thing is that your concerns are shared with someone in a position to help.
Visit this link on the Diocese of Derby website for more information, or to report a concern - Derby Diocese Safeguarding Team
PCR2
Protocols and practice guidance for the Church of England's Past Cases Review 2, (PCR2) have been published and are on the National Church of England Website. www.churchofengland.org/safeguarding/promoting-safer-church/safeguarding-news-statements/past-cases-review-2 Individual survivors who wish to make representations to the PCR2 process in the Diocese or who need to come forward with information or make any disclosures regarding church related abuse are encouraged to make direct contact with the Safeguarding Team 01332 388678 or the dedicated national helpline - 0800 80 20 20 - operated independently from the church, by the NSPCC.
The Church is a United Benefice with Holy Trinity Tansley